Hi everyone! Yes, it's that time of year again! I hope everybody enjoyed their Thanksgiving and 'mindfully indulged'.
A reminder, Christmas and Hanukkah are just one month away, I know, New Year New You! Lots of good resolutions which result in a spike in gym memberships and training sessions. But let's take a moment to ask ourselves, 'How will this year be different from past New Years'?
1. What are the steps you can and should take to 'fool – proof' your fitness/wellness goals?
2. What worked and didn't work with your fitness routine this year?
3. The goal for 2023 – making optimal health & wellness an every day way of life!
Now, let's face it, we all know that proper hydration + restful sleep + mindful eating + 'getting your steps in' are the way to ensure optimal health. BUT, the best laid plans often get derailed during holiday time!
I have always advised my clients to follow this useful adage – 'the best defense is a good offense!'
Which is why my 3 – workout Burn to Earn special series is short on time (10 – 15 minute workouts), but long on results! Whether starting your day with one, (or all of the workouts,) having a midday pick–me–up 'sweat' or de-stressing at the end of a long day. The workouts are as follows:
a. Workout 1 – Compound
b. Workout 2 – Plank & Abs
c. Workout 3 – Full–Body Plyometric
So if you want to get a head start on those New Year resolutions, and enjoy the holiday season with your friends and family, without trepidation or fear….. I am here to help stay on your path to optimal wellness, and when you have 'too much fun,' these bite-size powerful effective workouts are here to help you get back on course.
So get a head start, and have fun along the way with this David Kirsch special series.
Get Kirsched and stay fit so you can look fabulous, painlessly New Year's Eve and beyond..
Wishing you all a joyous holiday season full of fun, laughter, good cheer!
In good health,
David
Please view the snippets of the first video below.
Please view the snippets of the second and third videos below.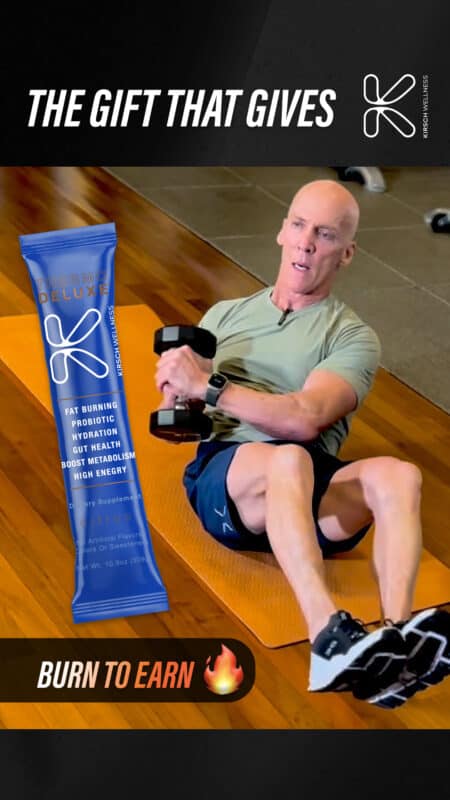 Give the gift that gives to your love ones.
To gift your loved ones this gift, please enter their email and address upon checkout.
Buy now